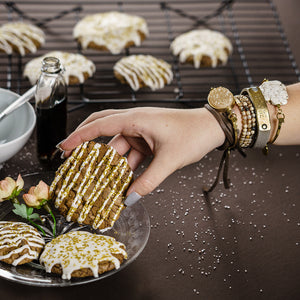 Pearl Frosted Chocolate Obsession Cookies
16 oz semi-sweet chocolate chips (divided use)
4 T butter
2/3 c all-purpose flour
1/2 t baking powder
1/2 t salt
2 large eggs
3/4 c packed light brown sugar
1 t Mexican vanilla
Preheat oven to 350.  Melt 8 oz of the chocolate chips and the butter in the microwave stirring occasionally, do not overheat.  In another bowl, whisk together the flour, baking powder and salt.
In a mixing bowl, beat eggs, brown sugar and vanilla on high speed until fluffy.  Reduce speed and beat in melted chocolate.  Fold in flour mixture until just combined then stir in remaining chocolate chips.
Drop heaping tablespoons of dough 2-3 inches apart onto baking sheets.  Bake 12-15 min, rotating sheets halfway through.  Cookies should be soft in the center with a shiny, cracked coating.  Cool on wire racks.
Frost with royal icing and top with gold pearlized coarse sugar crystals.
From the kitchen of: Robin, Production Manager
---