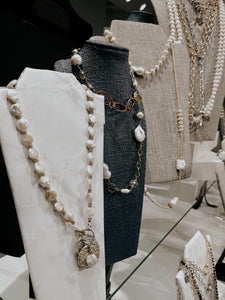 Jewelry Merchandising 101 with Julio Designs
Want to get your jewelry off the racks and into the hands of your clients? With proper merchandising techniques you'll find that your jewelry literally sells itself. With over 100+ years of combined retail industry experience, The Julio Designs Team has listed a few of our favorite merchandising tips below to increase your jewelry sales without having to sell!
Tell a Story
Use your space wisely. Tabletop and case display strategically placed throughout your store can easily catch your customer's eye and guide them throughout the store. Include items that tell a color story, group by gemstone, style, or customer type. Create a theme with your display that is cohesive. Don't be afraid to add high end pieces to your case with the low-end pieces. They will bring up the perceived value of the entire case. By telling a story in these ways you're adding visual interest and appeal to your displays that will entice your customers.
The Art of Layering
Use 3-4 necklaces on a mannequin at varying lengths to complement a simple outfit and let the jewelry be the star. This way the customer sees the whole picture and will want to purchase everything. Another creative way to layer would be to take many necklaces, 5-10 of a similar style, and 'drip' a bare mannequin. This provides visual interest and gets the customer excited to explore the display visually.
Make A Statement
To capture attention, you need to make a statement! Highlight show-stopping and statement-making pieces by having a display at the center of your store, elevated on a surface, or in a window display. It's a great way to pull in traffic from outside your store and sell items that normally would be overlooked.
Keep It Fresh
Your customers want a shopping experience that's new and exciting every week! Don't let your displays or sales floor get stale. Add a weekly merchandising day to your store calendar so that displays are updated regularly and get clients excited about coming to see what's new each week.
Stay Safe
Jewelry on mannequins and clothing T-stands can easily be slipped into pockets. To avoid this, make anti-theft measures a priority when creating displays. Add ribbon to the jewelry piece and tie the jewelry to the mannequin or hanger. Do this in a way so that the ribbon is hidden from view and the jewelry is hard to steal.  
---