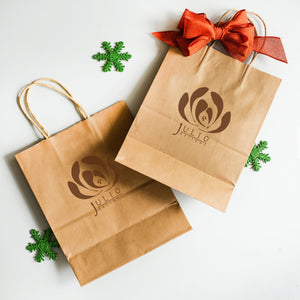 5 Easy Gift Wrapping Ideas to Make the Holiday Rush Simple
The holidays are an exciting time for customers and business owners alike!  As an owner of a boutique or store, you have likely experienced the frenzy in December that is the holiday rush. Customers are constant, and then there are decorations, employee scheduling, add in lots of high-energy moments and overwhelm can easily happen.
So why even offer gift wrapping in the first place if it's just adding on to the always evolving to-do list?  How can you add a little extra sale at the cash wrap? How can your gift-wrapping prep save you time and make you money? We've included 5 ideas that will make your holiday rush simple (and allow you to sell more jewelry), so you have less to think about.
Translucent Jewelry Boxes for grab and go sales
These translucent boxes from Uline are perfect for pre-packaging bracelets for a quick and easy sale! Display bracelets stacked and styled, 2 -3 to a bracelet pillow which you can buy here . Mix and match the bracelets that you think make the best stack and be sure to incorporate the price of the box and pillow into the cost of the final bundle. For example, if you have our Abzug bracelet paired with our Izze and Sorrel bracelet, the total cost for that bundle + $2 for the packaging, that total would be $108. It's a good idea to add stacks together that equal $50 to $100, as those are common amounts for gifts for family & friends.
Rubber Stamp or bag stickers
Personalize brown paper bags by adding your own festive stamp or sticker to them. Have your employees do this during their down time and designate a spot for them near the cash wrap, that way it's fast to grab them and go.
Tissue Paper Hack
You may know this easy hack, but your employees might not. To easily fluff your tissue paper for picture-perfect gifts, start with a single sheet of tissue paper. Loosely fold the sheet in half and pinch at the center with one hand. Then quickly flick your wrist. Paper bags and tissue paper are excellent and much faster than wrapping jewelry boxes. Place your tissue paper near the cash wrap next to the bags to speed the process up as well. 

An Alternative to Ribbon Bows
Want big fluffy bows without spending hours tying ribbons? Use tulle! Pre-tie your tulle bows onto your bags so that all you have to do is give them a quick fluff when it's time to wrap a gift. 
Add a Sweet Treat
We love these elastic bows! If you already display jewelry in boxes in your store, elastic bows are a super simple way to wrap a gift and look luxe. They easily snap to jewelry boxes and can hold extra decorations or better yet, candy canes! 
Let us know if these tips work for you! If you have any questions or would like more information about this blog or our latest collection please email info@juliodesigns.com 
---