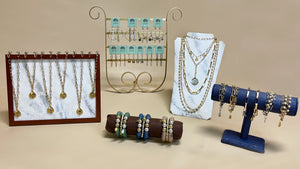 5 Cheap And Easy Ways To Refresh Your Jewelry Displays & Sell More Jewelry
How do you currently display your jewelry in store? Are you selling as much as you could be? Outdated displays can make even the best jewelry look undesirable, causing you to sell less! Hit the refresh button! Refreshing your displays, rather than buying new ones, can save your business money while also breathing new life into your visuals. Scroll on to see 5 unique ways to use items you may already have, and with a little creativity and craftiness, give them a new life.
P.S. > All of the jewelry shown below is from our newest collection. Shop the collection here!
1. Picture Frame Necklace Holder
This type of space saving display is perfect for a table in your store or up near the register to entice your customers to make an impulse buy! We've featured dainty necklaces here as they wouldn't overwhelm the frame, but you could really hang anything you are wanting to highlight.  
What you need
1 wooden frame at least 8 x 10
A piece of photo paper or scrapbook paper
1 upholstery or decorative nail per inch width of frame (we used 12)
Needle nose pliers
Ruler
Hammer
Choose a large wooden frame at least 8x10- we recommend a standard certificate frame. Remove the glass and safely discard, insert a cute piece of scrapbook or photo paper that matches the décor of your store.                    
Measure one inch apart with a ruler across the top of the frame and mark at each inch mark.                                                                                         
Using the pliers to grip the nails, hammer the nails into the marks. An extra pair of hands comes in handy here to steady the frame. 
Hang necklaces on the nails and voila, done! Check out our Jester Necklaces here. 
2. Bracelet Tube
These bracelet tubes are perfect for trunk shows or for displaying product up near the register. They also keep unruly piles of bracelets organized! It's easy to make and stay current as you can change the fabric whenever you'd like. 
What you need
1 Paint roller
1 piece of 12"x 14" felt or thick decorative fabric
Place the paint roller on the long side of the fabric (14" side) and roll it up like a burrito.   
Stuff the extra fabric into the ends of the paint roller so that it looks finished.    
Add bracelets stacked and spaced out along the length of your tube and you're done! Take a look at our bracelets here. 
3. Freshen Up Your Earring Rack
Gold is back and on trend! Sell more earrings by painting your current earring rack gold. Updating your metal racks to gold is a subtle yet very effective way to get more eyes on your display! 
What you need
1 Metal earring rack
1 can of gold (or your choice of color) spray paint – suitable for metal
1 Piece of steel wool
1. Lightly scrub the surface of the entire earring rack with your steel wool pad. This makes the surface able to hold the paint better.
2. Lightly coat the entire rack with spray paint. Allowing time to dry between 2-3 coats. (more light coats make for a longer lasting finish with less drip)
3. Allow to dry overnight before placing your earrings on the rack! Shop our earrings here.
4. Paint Your Burlap Displays
Burlap doesn't have to be basic! It absorbs paint well and, with a pop of color, it can stand out in your store! 
What you need
Any type of acrylic paint (latex house paint works great!)
Paint brush
Burlap display fixture
Using a stiff brush paint the burlap stand, being sure to get into the holes of the burlap.    
Allow to dry 2-3 hours before applying a second coat, which you will need for full coverage.     
Add another coat if necessary and allow to dry.                                                                                                                                            
5. Cover Your Easel Neck Stand
Easel stands work well to feature one (or a few) special necklaces. When you re-cover your neck stand, choose paper that coordinates with your store or brand, but nothing too loud. We want the focus on the necklaces, not the stands.  Layer necklaces in a way that work well together and you'll end up selling all of them instead of just one! 
What you need
Easel Neck Stand
1 piece of decorative paper, slightly larger than your neck stand (wallpaper or scrapbook paper)
Hot Glue Gun & glue sticks
Scissors
Lay your neck stand down on the back of the paper. Be sure to position your stand so that the design of your paper is centered.   
Trace the outline of the neck stand getting as close to the stand as possible.              
Then trace another line approximately one inch from the first trace line so that you now have 2 outlines.   
Cut around the outer line. Then make cuts at all of the corners and on the curves so that you will get an easier, smooth fold on your paper.    
Put glue in the center of your paper and put the neck stand down, this anchors the paper for your neck stand. Then start folding, and apply glue to the stand as you fold your paper. Press down onto the neck stand to smooth out any bumps.       
Extra cuts around the corners may be necessary at this point to ensure that the front of your display stays smooth.   
Add necklaces to your stand and you are finished! Check out our favorite necklaces here. 
We hope these ideas help you sell more of your jewelry!  If you try out any of our DIYs featured here please let us know and send a photo to info@juliodesigns.com- We would LOVE to see your finished products! 
---