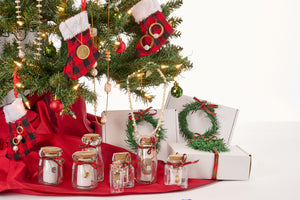 Quick & Easy Holiday Gift Wrap & Display Ideas to Sell More Jewelry
'Tis the season to shop! With the holidays fast approaching, customers are on the hunt for the perfect gifts for their loved ones. Now is an excellent time to make sure you're prepared and not overwhelmed by the holiday hustle and bustle.  
There's always a laundry list of things to do during this time of the year, so why add more? To sell more jewelry and make more money! Isn't that the name of the game? We've come up with 5 quick & easy gift wrap and display tips and tricks to help make you ready.
1. Decorate a small Christmas tree with jewelry
Add an unexpected twist to a Christmas tree this season. Instead of using ornaments, try decorating with jewelry. Highlight your jewelry on a small tree by the cash wrap. Use the tree to showcase your favorite necklaces, bracelets and earrings. Pearls and crystals are sure to shine brightly, grabbing your customer's attention. This will make it easy for customers to pick up stocking stuffers or that last minute gift.  
2. Mini stockings as gift wrap
Instead of gift wrap, you can also add a unique touch by using stockings to package your customer's jewelry. Stockings are an easy and inexpensive way to add holiday cheer. Let's face it, gifts are not just about you're giving; the packaging is important, too! Select a designated area by the cash wrap to display your jewelry and showcase the cheerful packaging.
3. Pre-made holiday box toppers
Let's be honest, who has time to gift wrap every purchase? It backs up the line and creates frustration for both your employees and the customers. Make sure your customers leave with an enjoyable shopping experience, so they want to keep coming back. Be prepared by pre-making these cute wreaths with elastic ribbon and simply slide on to any gift box to close your package with a festive touch.
4. Reindeer gift bags
Add whimsy to a simple cub shopper using googly eyes, pom poms, and candy canes. A little hot glue is all it takes to create pre-made joyful reindeer packaging.
5. Display signs
Create fun, intriguing signs to help sell through your new, current, and seasonal jewelry inventory.
Constantly move around your inventory and display a "New Arrivals" sign at the front door. Sometimes all your jewelry needs to be noticed is a little refresh.
Choose 10-12 pieces of jewelry to highlight each week and label them as "Great for Gifts" to appeal to shoppers in a hurry.
To make room for new inventory, it's necessary to sell through current inventory, without giving it away. Create a clearance area your customer will want to shop and call it something fun like "The North Pole" or "Santa's Corner."
Photo courtesy of Mainstream Boutique in Flower Mound, Texas.
---